Milestones in our History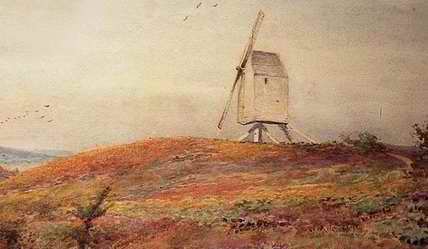 Sandgate Conservation Society has been in existence for over 30 years. Below are some of the key events the society's long history.
The 1960s
June 1967 – District Plan shows Sandgate Park as being allocated for housing. Local residents start to campaign to save the site as an area of woodland and a nature reserve. If it was not for the vision, drive and dedication of these local residents in the Society's formative years Sandgate Park, would not exist for us to enjoy today.
Very special mention needs to go to three of these people in particular. They are Dr. Roy Armstrong, Lt. Cdr. Peter Bazire and Bernard Johnson.
The 1970s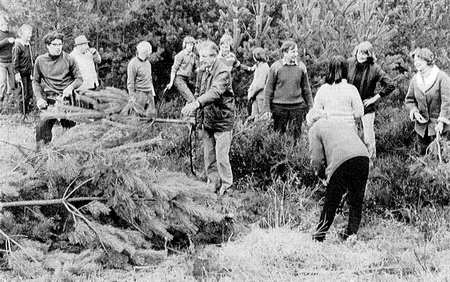 Oct. 1971 – Following campaigning from local residents, Chanctonbury Rural District Council asks Readymix Co. to designate 16 acres of Sandgate Park as a nature reserve
May 1972 – First meeting to discuss maintaining site as nature reserve
March 1974 – Land transferred from Readymix Co. to Council
April 1974 – Meeting of local authorities and wildlife organisations agree to form a committee to promote Country Park.
June 1974 – Public meeting agrees to establish committee to care for Sandgate Park. Sandgate Area Conservation Committee formed in July.
Sept. 1974 – Ad hoc Conservation Committee formalised and becomes Sandgate Preservation Society
Nov. 1974 – Sandgate Preservation Society holds its first Committee Meeting
Feb. 1975 – First work party on Sullington Warren – These have continued every month since then.
May 1975 – First Annual General Meeting held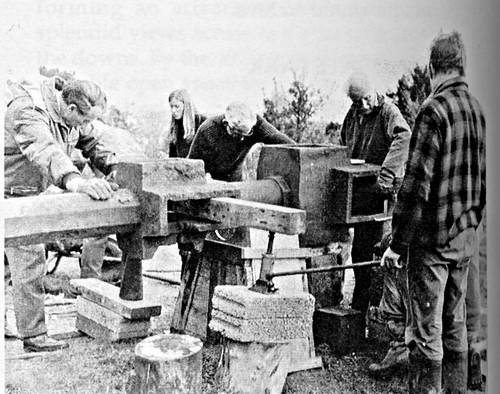 May 1977 – Horsham District Council publishes management Plan for Sandgate Park
1978 – Sandgate Work Party mounts the shaft of the old windmill on plinth in its original position on Sullington Warren.
April 1978 – The name of the Society's regular work days changed to Field Days. This name has endured ever since
1978 – Plaque unveiled on Round Seat on one of the tumuli at Sullington Warren. This commemorates the 37 years that Miss Clarke-Williams was the Secretary of the National Trust Local Committee since 1935.
Miss Clark-Williams led a high profile national campaign which succeeds in saving 28 acres of Sullington Warren from housing development. The land was purchased on behalf of the National Trust in 1935
The 1980s
April 1981 – Roy Armstrong appointed Sandgate Preservation Society's first President.
June 1982 – An additional substantial area of land containing 2 ponds given to District Council by developers to increase the area of public open space.
June 1983 – Founding Member Peter Bazire dies suddenly. This was a great loss to the Society
1984 – Sandgate celebrates its 10th Anniversary
April 1985 – Sandgate membership rises to 600 households
May 1985 – Thirty Five acres of Sullington Warren transferred from the District Council to the National Trust. This enables the National Trust to manage the 63 acres as a single unit.
April 1986 – Don Filliston succeeds Martin Pilcher as Chairman of the Society
April 1987 – Two hundred members of Sandgate write to District Council in protest about proposals to build 50,000 new houses in the District.
Oct. 1987 – The Great Storm devastates South East England, substantial damage done to whole of Sandgate Park and parts of Sullington Warren. The Great Storm destroyed over three million trees in the South East of England as well as causing damage to thousands of houses and buildings. Sandgate Lane was blocked by fallen trees for three day.
Nov. 1988 – Probation Service provides labour to enable the Society to run additional weekly storm clearance Field Days
Nov 1989 – Storm clearance work means that most of the footpaths at Sandgate Park are open
The 1990s
April 1990 – Membership grows to 400 households
April 1990 – Sister organisation Storrington Conservation launched. The Society will care for the following sites in Storrington: Meadowside, the Mill Pond and Riverside Walk
Spring 1992 – Horsham District Council completes management plan for Sandgate Park
Oct. 1993 – Founder member, Roy Armstrong, Sandgate's first President, dies aged 93. To facilitate the eventual creation of a Country Park, Roy donated part of his beautifully landscaped garden to Horsham District Council.
Feb. 1995 – Retired National Trust Warden, for Sullington Warren and Warren Hill, Tony Jenner dies aged 68. Tony had been involved with the Society ever since it was formed in 1974 and commenced workdays at Sullington Warren. Tony was a great friend of Sandgate and helped in very many ways, including leading walks and contributing to our newsletters.
Winter 1996 – Over 700 native trees planted in Sandgate Park to replace some of those lost in the 1987 storm
March 1997 – Long service certificates presented to by Sullington Parish Council to Don Filliston and Ken Guiver for the contribution they had made to caring for the local environment
May 1997 – Members attending the Society's AGM agree to become a charitable unincorporated society and change the Preservation Society's name to Sandgate Conservation Society
The 2000s
Spring 2001 – Foot and mouth disease strikes Britain and all footpaths are closed for several weeks. This means that both Sandgate Park and Sullington Warren are closed and our Field Days are cancelled
July 2001 Founder member Bernard Johnston dies aged 89
Feb 2002 – Sandgate makes a submission to the Countryside Agency encouraging them to include Sandgate Park, Sullington Warren, Warren Hill and Washington Common within the boundary of the proposed South Downs National Park
April 2002 – Betty Bazire steps down after completing 22 years as a Committee Member. In recognition of this she was made a Honorary Life Member
April 2003 – Ken Guiver completes a record 25 years as Care and Reclamation Officer for the Society at Sullington Warren. During this period Ken led 100s of projects at the Warren and made a significant contribution to the conservation of the site.
December 2003 – Society Chairman, Don Filliston honoured by HRH Prince Charles, with the award of a MBE for services to conservation
April 2004 – Joint Sandgate and National Trust submission to South Downs Public Enquiry
April 2005 – Society's membership grows to 900 households

April 2005 – Don Filliston retires after Chairing the Society for 20 years

April 2005 – Geoffery Moore elected as new Chairman of the Society.
September 2006 – Horsham District Council holds a public consultation prior to revising the Management Plan for Sandgate Park.
June 2007 – South Downs Planning Enquiry report recommends the inclusion of Warren Hill and Washington Common within boundary of proposed National Park. Society makes representation to further consider the inclusion of Sullington Warren and Sandgate Park within the National Park boundary.

August 2007 – Sandgate Trustee, Ken Guiver given special recognition for completing 30 years on Sandgate Committee.

November 2009 – Sandgate Volunteer, Shawn Streeter (14), is awarded BTCV's Green Hero Award for his services to conservation by TV personality Charlie Dimmock.
The 2010's
Jan 2010 – Cold snap hits Sussex. Over 200 mm of snow fell on Storrington over night on Jan 5th. This caused many of the pine at Sullington Warren trees to shed their branches. The snow was followed by several
days of freezing temperatures which meant that stayed for over a week. This provided local children with an great opportunity to get their sledges out and really enjoy themselves.
May 2010 – Geoffrey Moore stands down as Chairman after five years at the helm. Our incoming Chairman, Audrey Algar presents him with a thank you gift at Sandgate's Summer BBQ.

September 2013 – Jacinta White becomes the new Chairman of the Society. She warmly thanks Audrey Algar for her hard work while she was Chairman. Also Ken Guiver stands down from the Committee after serving as a Committee Member / Trustee for 37 years. Ken was warmly thanked for the significant contribution that he has made to both Sandgate Conservation Society and the wider community.