Volunteering on our conservation mornings
We always welcome extra volunteers to help us on our conservation projects. You do not have to be a member to join us on our conservation mornings (though we would be happy to welcome you as a member as well) and you can work with us as often or as little as you like.
Our conservation mornings are an excellent way to learn new skills and make new friends. Everybody works within their capabilities which make our projects suitable for people of all ages.
We particularly welcome young people to join us on our conservation mornings.   We are often helped by local scouts who invariably gain an enormous amount from their time with us. In addition to learning conservation skills our projects are an excellent way to develop teamwork skills.  Please note that young people under the age of 18 must be supervised by a responsible adult.
Duke of Edinburgh Award
We are also happy to support young people joining us on our conservation mornings to fulfil the volunteering part of their Duke of Edinburgh's Award.  If you are considering volunteering with us as part of your DofE please contact us.
What we do
The work we do includes: thinning and planting trees; coppicing; clearing footpaths, ponds and streams; maintaining and rejuvenating heather heathland, along with many other interesting tasks.
At Sandgate Park we work in accordance with Horsham District Council's management plan for the park.
At Sullington Warren and Warren Hill we work under the supervision of the National Trust.  Additionally, what we do on and around the ancient barrows on Sullington Warren is dictated by the conservation requirements of English Heritage.
It's not all hard work either.  We stop halfway through for  tea or coffee and cake, and a chat.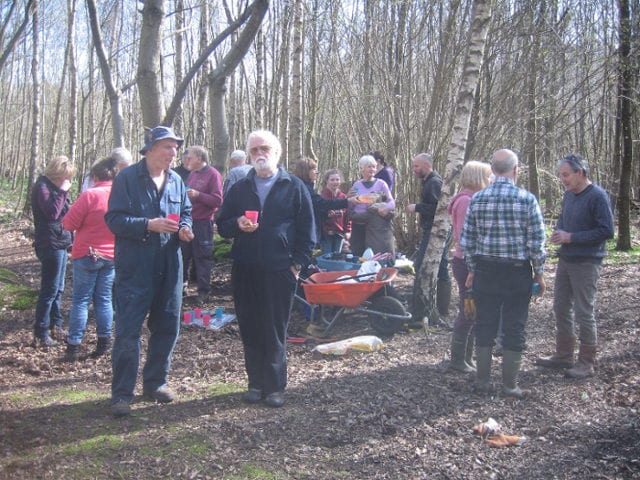 When we work
Our conservation mornings generally take place twice a month.
We work at Sullington Warren on the second Saturday of the month from 09:30 am to 12:00 noon.  Very occasionally one of these conservation mornings may be switched to the National Trust site at Warren Hill.  We usually do not have a conservation morning with the National Trust on the second Saturday in August.
We work at Sandgate Park on the fourth Saturday of the month from 10:00 am to 12:00 noon except in December.
Please check our Programme to find out exactly what work we are doing and where we plan to meet. Alternatively look out for our posters that we put up around the village or on our Facebook page to find out details.
Health & Safety
We supply all tools, gloves and other relevant safety equipment. We also explain the reason for undertaking a particular project and how to handle the simple hand tools we use safely.
You will be asked to sign in to record your attendance and to confirm that you have been given the health and safety briefing, for insurance reasons.
We also ask that conservation morning volunteers make emergency contact details available.  This is optional but please be aware that the use of tools, uneven ground and hidden stumps does mean that accidents, although very rare, do happen.  An Emergency contact form is provided. You can fill this in and bring it with you. Forms will also be available on the day. Alternatively, you may prefer to make other arrangements e.g. (ICE on your smart phone) but be aware that other conservation morning attendees may not be familiar with your chosen method and outdoor working conditions (wet weather, glare from the sun etc) may make it difficult to use.