Our next speakers evening will be on Wednesday October 26th 2016.
Anita Moseley has been keeping bees in West Chiltington for many years. She will tell us all about it and bring her local honey for sale.
Sullington Parish Hall, 19.30 start.
Members £2,- Non members £4,-
Refreshments included, all are welcome.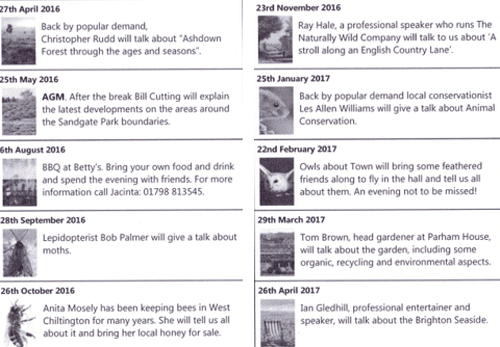 Sandgate Conservation Society – Charity Number 106401
Welcome to our website. We were established in the 1970s when local residents realised the potential danger of over-development to our unique local area of heath and woodland in the Parish of Sullington in West Sussex.
If it were not for the endeavours of these early visionaries the wonderful bluebell woodlands, heathland, streams and ponds, which now form Sandgate Park, would have been lost forever.
Once Sandgate Park, was saved from development, our members realised that work was needed to improve and enhance its wildlife and amenity value. This led to the start of our monthly Field Days.
As well as Sandgate Park, we have another site in the Parish which was also saved from development., This is Sullington Warren which has been in the ownership of the National Trust since the 1930s. This also needs management and for over 30 years we have been holding Field Days on this site too.
We don't own any land ourselves but we assist Horsham District Council, at Sandgate Park, and The National Trust, at Sullington Warren, to implement their management plans.
In addition to our Field Days we undertake two other very important types of activity. They are;
Organising talks and visits to local places of interest so that our members can gain a better understanding of conservation.
Commenting on planning matters so that the area can be further safeguarded from inappropriate development.
Over the years, Sandgate Conservation Society has flourished and we are now proud to have a membership of over 400 households in Sullington, Storrington and beyond.
Our Objectives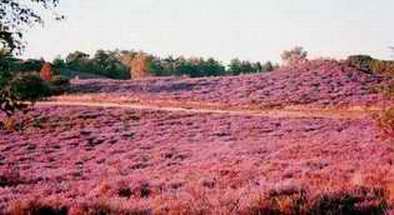 The Society has three main objectives:
To conserve the environment, mainly using volunteers, for the benefit of the public.
To campaign to prevent inappropriate development.
To educate the public in the principles and practice of conservation
Our Vision for the Future
The Horsham District Local Plan (adopted in 1997) includes a policy to safeguard the Sandgate Area to enable a country park to be formed in the future. This is a long cherished vision of the Society and will realise one of its main objectives when implemented.