In our last update on the bridge, just over 2 weeks ago, we reported on the start of the work to build the bridge.  The contractor had marked the trees that needed to be taken out for the new path and the Sandgate Conservation Society volunteers had spent a work morning removing the trees.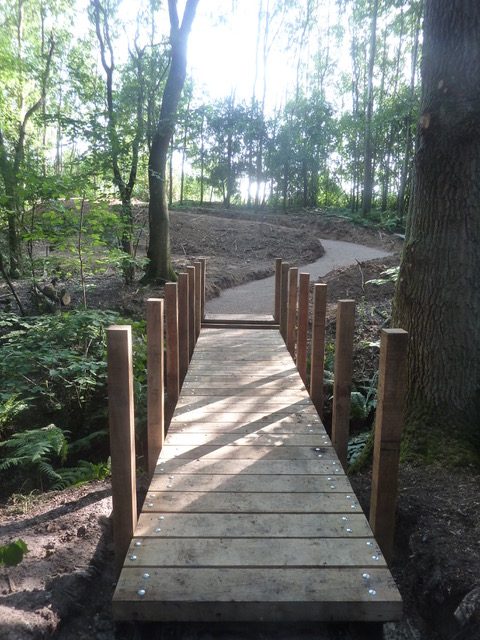 Regular visitors to Sandgate Park would have seen that within a few days the contractor had cleared away the felled logs, removed the tree stumps and dug out the new path, and created the concrete foundations for the bridge.
A few days ago we were told that the bridge was at the stage where we could usefully help to finish work on it.
You can see the new path on the Cemex quarry side has been completed and it now has a gentle slope through the woods to the bridge.
The bridge crosses the stream at a point where its banks are level so that there is step-less access to the bridge from the paths.
The bridge is made from durable oak and it is build on top of two steel beams that span the gap – it is built to last.
The bridge still needed anti-slip strips and hand-rails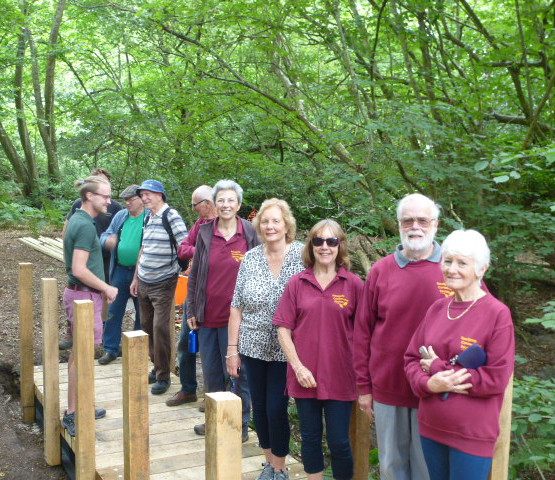 so on Tuesday morning the 'crew' gathered for work.  Sandgate Conservation Society volunteers were joined by Horsham District Council Parks and Countryside staff.  Anna Worthington-Leese, Chairman of Storrington and Sullington Parish Council came along to check out progress.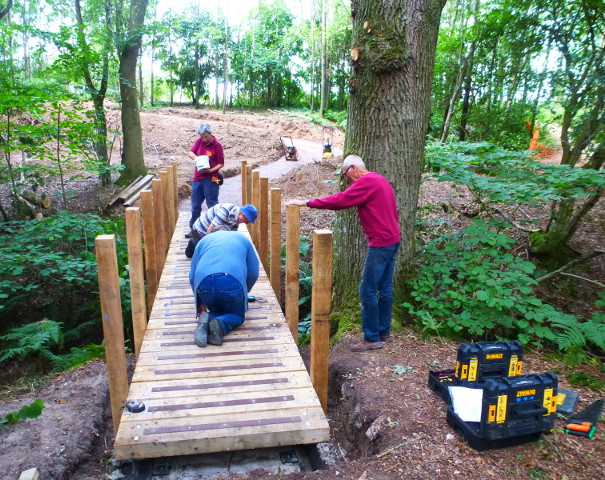 Fixing the anti-slip strips.  Two people screwing on the strips, one person sorting out the screws and one person as the obligatory 'foreman'!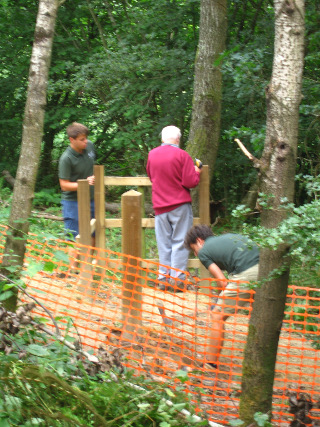 Meanwhile, in another part of the woods, the redundant gate was removed.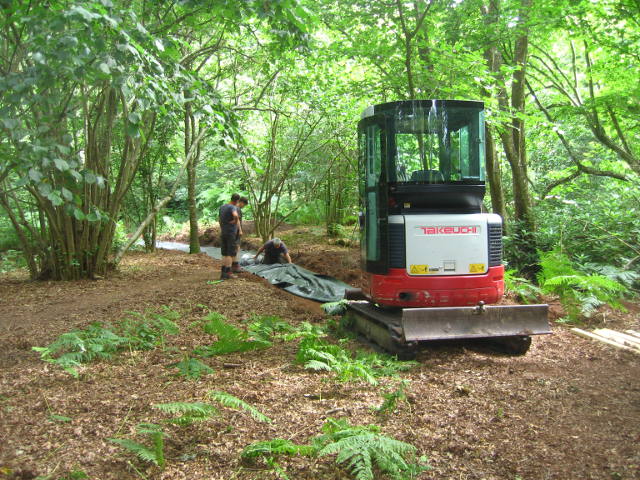 While this activity was going on the contractor was continuing work on the paths.  A new path is being created from the new bridge to the gate onto Badgers Holt.  This will provide accessible access to the area of Sandgate Park from the eastern end of the park.  It is hoped that park users will stick to this new path so that the native bluebells and wild daffodils are not trampled.
We think you will agree that the bridge looks just right for the woodland setting and it meets all expectations.
A big thank-you to all of you who helped make this happen by donating to the bridge fund.