As the year moves into autumn and winter you will see that on some of our conservation mornings we will have a bonfire.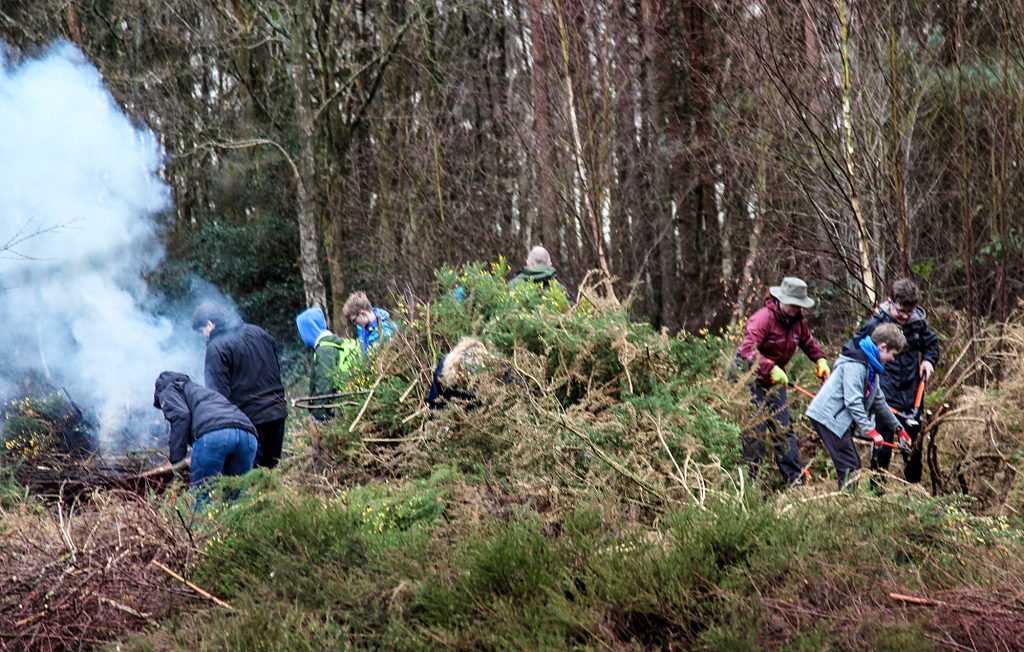 In the autumn and winter months our conservation work often includes cutting down small trees, coppicing and cutting back shrubs. This creates a lot of woody waste material which we need to dispose of somehow.  Everyone loves a bonfire but with concerns about greenhouse gas (GHG) emissions why do we burn it?
There are only 3 realistic options for us on the sites we work on.
Pile it up and leave it to rot down
Over time this will still result in the release of carbon into the atmosphere, plus some methane which is a worse GHG. It is true that some carbon will be kept in the wood that breaks down into organic matter in the soil but we do not want this on the heathland areas which need shallow, impoverished soil. At Sandgate Park, where there are areas where piles could be left, much of our shrub clearance work involves cutting back of the invasive and fast growing Rhododendron ponticum. The leaves and stems of this shrub decompose slowly as the wood and leaves do not attract invertebrates, such as woodlice, worms, beetles, etc., that eat dead wood and leaves, so we would soon have too many piles of cut material which would detract from the attractiveness of the area and we would become short of space for any more.
Chipping
This has similar issues as leaving the material to rot down plus any chipper would almost certainly need to be petrol or diesel driven and so add to GHG emissions.
Burning
Most of the carbon is released back into the atmosphere, but no methane is produced.
Burning is not the perfect answer but is often the best one available to us, especially where our objective is to maintain and expand our very rare heathland habitats. In your own gardens the other options are usually better choices as they:
keep precious organic matter in your garden,
can be used to provide habitat piles to attract birds, reptiles, amphibians and mammals, such as hedgehogs, into your garden, and
are less likely to cause annoyance to your neighbours due to smoke and smell.
Alternatively you can subscribe to the council's green waste collection.
If you want to help on one of our conservation mornings please see our programme here or email sandgate.conservation@gmail.com. Tools, gloves and refreshments are provided.